Create a digital student experience that makes your school a top pick
Protect your organization from lawsuits and reputational damage through error-free, accessible content. Analyze and grow engagement on your digital channels and boost your search rankings.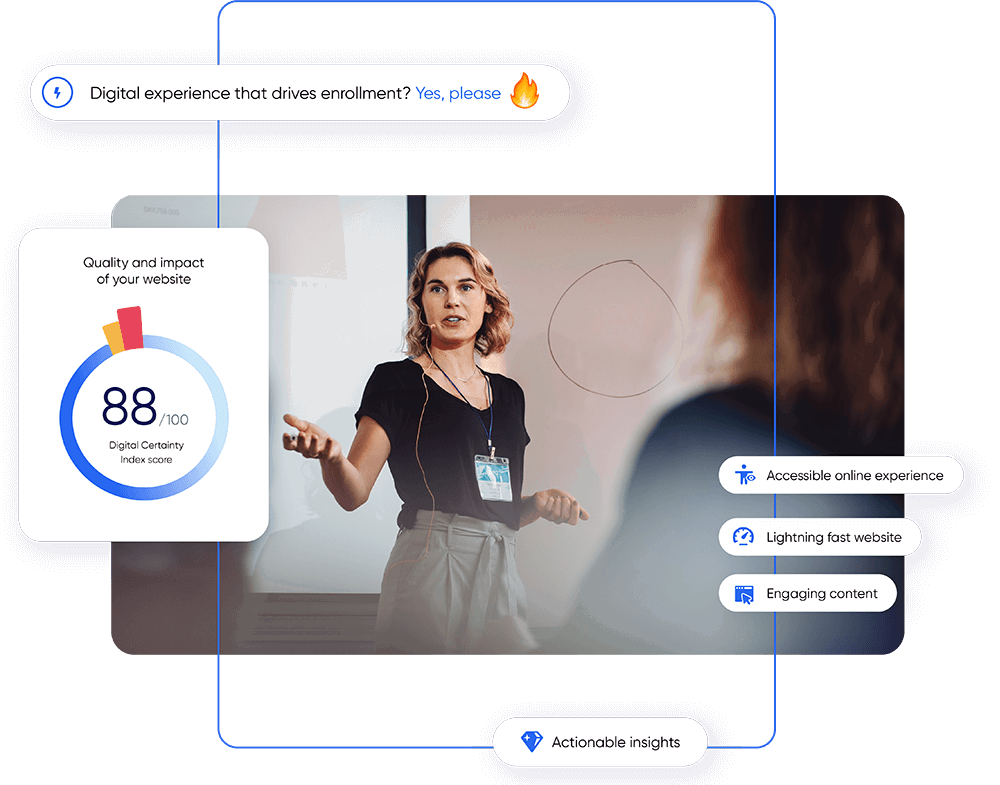 Improve your digital student experience
As digital continues to dominate decision-making among students, higher education institutions must prioritize the effectiveness of their websites to remain competitive and relevant.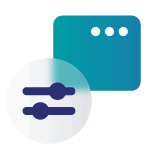 Gain control over your websites through automated error detection and a content inventory.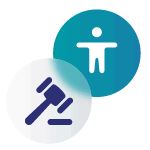 Reach and maintain accessibility compliance.
Save time and money by optimizing essential digital elements from a single solution.
What are your digital optimization priorities today?
Break down barriers preventing students from accessing essential information online
Whether you need to comply with the Americans with Disability Act (ADA) or the EU Web Accessibility Directive, it's critical that educational websites and services are accessible for visitors of all abilities.
Siteimprove breaks down complex WCAG 2 A, AA, AAA standards into prioritized issues and manageable tasks based on difficulty, conformance level, and severity, so you can quickly assess your progress towards your compliance goals and fix issues.
Get on top of content quality through a content inventory and issue reporting
High-quality content is at the heart of providing students, staff, alumni, and the wider public with the information they need online. With editors across different departments, it's easy for errors to creep in, and for no-one to have the overview of all the content that exists.
Siteimprove automatically creates a website content inventory for you, so you save time and have full visibility over the sites and content you're responsible for. Create a frictionless experience for your visitors by making it easy for your team to fix content issues such as misspellings, broken links, or complex readability levels through email reports alerting them to what's broken, which include guidance for non-experts on how to resolve the issue.
Use easy-to-understand analytics to make sense of student engagement
Website visitors now expect instant gratification, with 88% of visitors not returning to poorly performing websites. But where should you start optimizing for your university, community college, or primary education provider website? Siteimprove makes it easy to understand which actions will drive the most impact on your website so it loads quickly, positions you more competitively across paid and organic search, and drives more traffic.
How can we help your organization?
"During our recent website relaunch, Siteimprove enabled us to significantly improve the quality of our content, setting a new standard for the website experience we offer to our visitors. Since the relaunch, we quadrupled traffic to our website and gained deep data-driven insights into the mechanics of content design, which will guide our digital marketing efforts moving forward."
— Jörg Lothal, Senior Manager Corporate Communications, Web Intelligence and SEM, Merck
Read their story

(Merck)
"All of a sudden you wake up one day and there's this overwhelming feeling of 'I have 10,000 pages of chaos.' Using Siteimprove has been a game changer. It's always there and nimble enough to do what we need it to do. Siteimprove is an indispensable product."
— Jim Crone, Executive Director of Digital Marketing, Bradley University
Read their story

(Bradley University)
We're more than great software
Siteimprove offers world-class support, services, and free educational content to scale your continued training.
Let us tell you how
Let us know who you are and what you dream of. We might be able to help.
Start the conversation