Deliver delightful content that generates business
Content experience is about creating something that can be fully experienced by all your visitors, can be clearly seen by search engines, and creates demonstrable performance gains across your company. That's what Siteimprove delivers.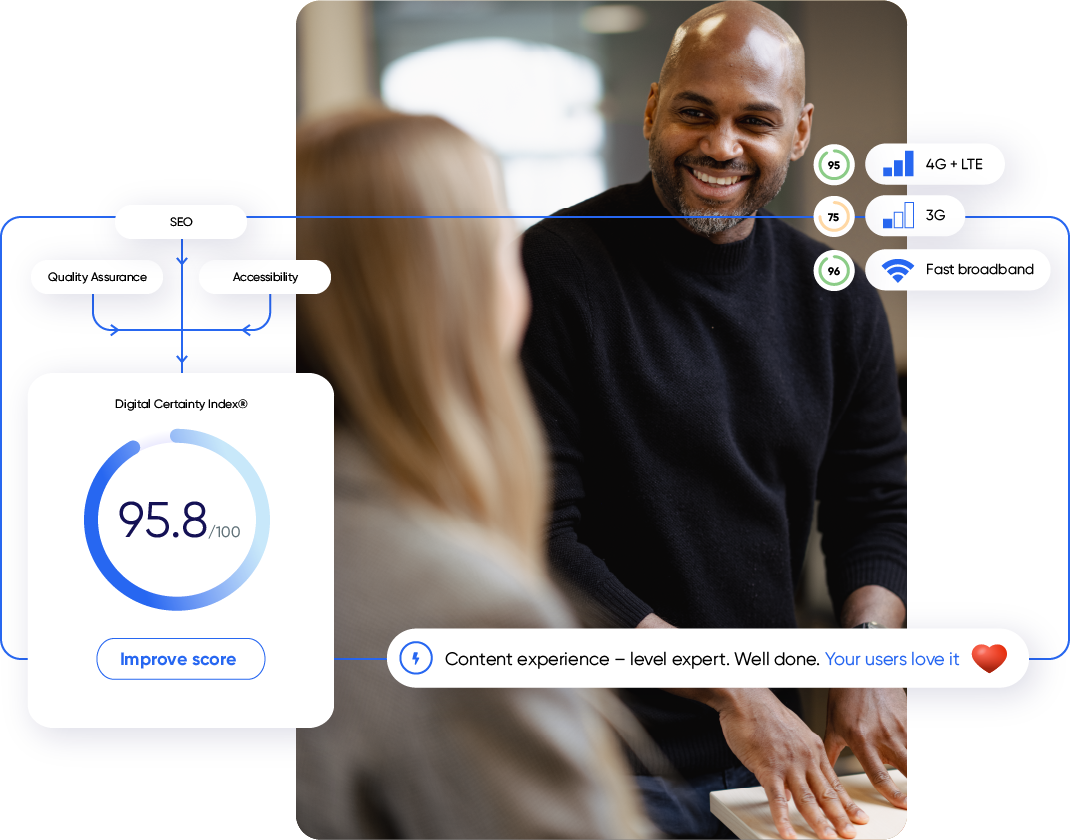 Content that does more than inform: content that builds your business

A roadmap of improvements
Understand the quality of your content experience and how to improve it.
Prioritize what matters most
Focus on optimizations that provide visitors with meaningful experiences.
Prove content impact
Measure the impact of content on your business growth.
The experience you provide matters
10%

of visitors will leave because a website is inaccessible

40%

of visitors will leave your website if it takes more than 3 seconds to load

38%

of visitors will stop engaging if content and layout are not attractive
Why Siteimprove?
Single solution
We are a front-runner in combining disciplines into a single source of truth, for consistently optimized user experience and better search rankings.
Standardized assessments
Our patented DCI scoring system allows teams to easily evaluate and standardize content quality and usability.
Content that delights
With Siteimprove, teams can craft competitive, high-quality experiences that meet and exceed expectations across devices, channels, and user demographics.
Drive business growth
Use Siteimprove to connect user analytics metrics directly to your content experience, helping your team prioritize and drive business growth.
Workflow integration
We offer the deepest and widest workflow integrations with both CMS and DXP providers. This gives you the visibility and adaptability to reliably optimize your content experiences.
Inside our  Content Experience solution
Get the eBook
Personalized Content for Every Step in the Customer Journey
Download the eBook
Get in touch
Let us know who you are and what you dream of - we might be able to help
Learn more