Exceptional content is inclusive content
Siteimprove helps your team create and maintain inclusive and high-quality content, protecting your brand reputation and reducing the risk of compliance lawsuits and fines.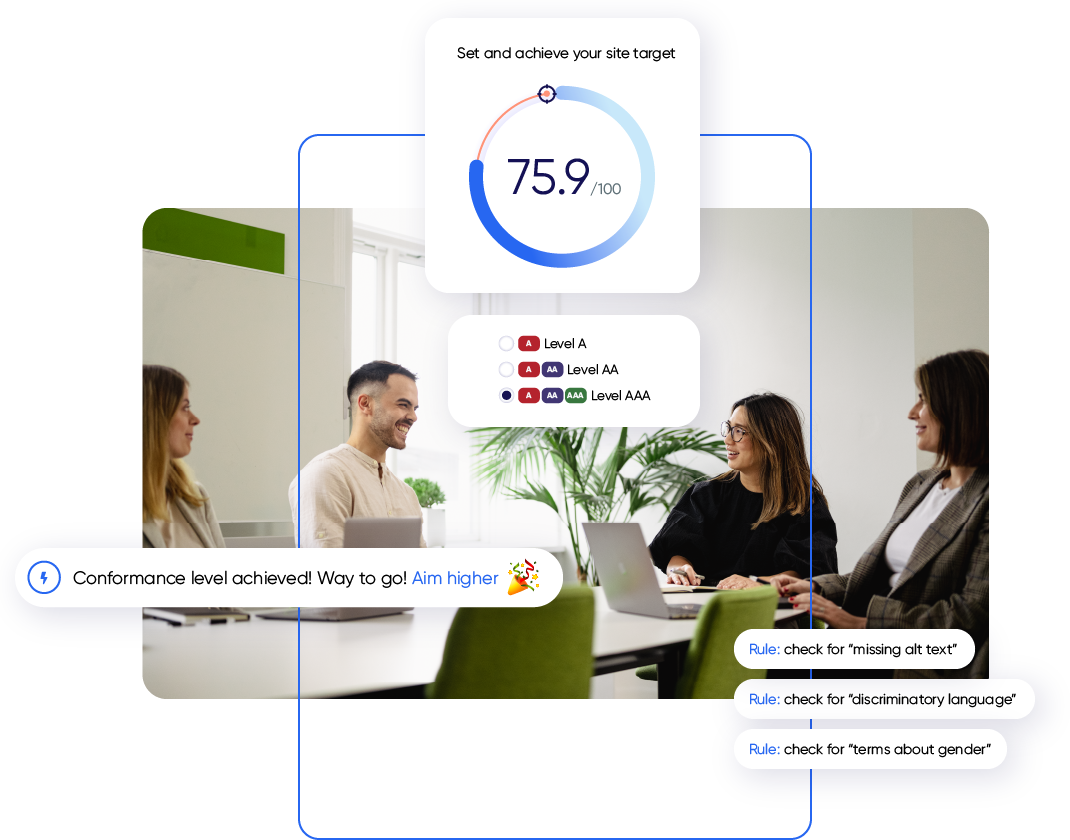 Inclusivity means better access to more customers who are going to share their brand experience with others

Own your responsibility
Many companies fail to live up to their own inclusivity goals – and they don't need to. Siteimprove can elevate their sites to the accessibility echelon your brand deserves.
Now and forever
Make sure your current content is accessible – and know that every piece you produce going forward is representative of the brand you want to be.
Know you are doing it right
Simplified inclusivity reporting dashboards allow members across your organization the ability to see how you're doing, where you're falling short, and what needs to be done.
The time to act on inclusivity is now
19%

of the population has a disability

66%

of consumers expect companies to understand their unique needs

53%

of all consumers say they're loyal to companies that prioritize diversity, equity, and inclusion
Why Siteimprove?
Accessibility front runner
We work with leading accessibility groups, such as IAAP and the W3C. We support the implementation of WCAG, giving you the most accurate, comprehensive, and up-to-date accessibility tests.
Top ranked in user-friendliness
We've been ranked as the most user-friendly and motivating accessibility tool, empowering your team to fix inclusivity concerns with ease.
Workflow integrations
Siteimprove offers the widest selection of workflow integrations of any vendor, allowing your team to continue working with their existing tools.
Global capabilities
Siteimprove is the strongest localized tool on the market. Our platform comes in 12 languages, allowing your team to be successful on a global scale.
Learn more
Check out the accessibility center of excellence
Take me there